Ekon Benefits is publishing a three part series regarding projected pension plan costs for single-employer defined benefit plans.

The first article, entitled
"
The Impact of Interest Rates on Single-Employer Defined Benefit Plan Costs
"
was featured on BenefitsLink.com as well as in the February edition of Ekon's
Your Trusted Source
newsletter.
Click
to subscribe to this informative three part series.
On October 31, 2013, The Internal Revenue Service announced the cost of living adjustments affecting dollar limitations for pension plans and other retirement plans for 2014.
Effective January 1, 2014, the contribution limit for employees who participate in 401(k), 403(b), most 457 plans, and the federal government's Thrift Savings Plan remains at $17,500 while the catch-up contribution limit for participants age 50 and over who participate in these plans remains at $5,500. The limitation on the annual benefit under a defined benefit plan is increased to $210,000. The limitation for defined contribution plans is increased to $52,000. The annual compensation limit is increased from $255,000 to $260,000 while the limitation used in the definition of highly compensated employee remains unchanged at $115,000. The Social Security Contribution and Benefit base has been increased this year from $113,700 in 2013 to $117,000 in 2014.
View our chart summarizing the contribution limits for 2010 through 2014.
For more information concerning the 2014 Pension Plan Limitations, visit the IRS website.
Committed to Quality…
Committed to You…




Ekon Benefits - Your Trusted Partner
Quick Links: Participant MyEkon Sponsor MyEkon Retirement FAQ Secure Send
---
Founded in St. Louis, Missouri in 1981, Ekon Benefits has been specializing in the administration and consulting of employer sponsored retirement plans for over 30 years.
We pride ourselves on providing timely, accurate retirement services that are comprehensive and customized to your needs. Our associates are knowledgeable and bring an average of more than 14 years of experience, with extensive experience in all types of qualified plans including Defined Benefit actuarial services, 401(k) recordkeeping and compliance, ESOP accounting, and 403(b) and 457 Plan administration.
The name Ekon Benefits unifies our service lines under a common name and message. Ekon, meaning trust in Polish, speaks to our founder's ancestry, as well as our goal of being your trusted partner for retirement plan design, administration and consulting.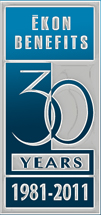 Ekon Benefits
4940 Washington Boulevard
St. Louis, Missouri 63108
314-367-6555 main
866-871-6356 toll free
314-367-7982 fax
info@ekonbenefits.com
Ekon Benefits, your Trusted Partner for Retirement Plan Administration and Consulting