Do you receive our "Your Trusted Source" monthly newsletter? Stop missing out!
Sign up now to receive industry news and hot topics, compliance tips, and much more!
The May 2015 edition of "Your Trusted Source" features the following topics:
It's here! The DOL has released their proposal for the definition of Fiduciary. We have all the details you need to know in this month's newsletter.

A new revenue procedure modifies the Employee Plans Compliance Resolution System (EPCRS), the program designed to allow Plan Sponsors to remedy errors in their Plan.

Rescue Rewind! The filing deadline for Form 5500s is nearing for calendar year plans. We're taking you back to May 2014 by sharing the "401(k) Rescue: Failure to File a Form 5500". Does your Plan need to be rescued?
Check out the May Your Trusted Source Newsletter for these topics and more.
Trying to find a previous Your Trusted Source newsletter? You'll find it in our archive.
Committed to Quality…
Committed to You…




Ekon Benefits - Your Trusted Partner
Quick Links: Participant MyEkon Sponsor MyEkon Retirement FAQ Secure Send
---
Founded in St. Louis, Missouri in 1981, Ekon Benefits has been specializing in the administration and consulting of employer sponsored retirement plans for over 30 years.
We pride ourselves on providing timely, accurate retirement services that are comprehensive and customized to your needs. Our associates are knowledgeable and bring an average of more than 14 years of experience, with extensive experience in all types of qualified plans including Defined Benefit actuarial services, 401(k) recordkeeping and compliance, ESOP accounting, and 403(b) and 457 Plan administration.
The name Ekon Benefits unifies our service lines under a common name and message. Ekon, meaning trust in Polish, speaks to our founder's ancestry, as well as our goal of being your trusted partner for retirement plan design, administration and consulting.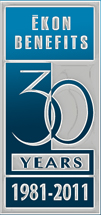 Ekon Benefits
4940 Washington Boulevard
St. Louis, Missouri 63108
314-367-6555 main
866-871-6356 toll free
314-367-7982 fax
info@ekonbenefits.com
Ekon Benefits, your Trusted Partner for Retirement Plan Administration and Consulting