Nominations for the 2015 American Red Cross Heroes Breakfast are due December 1.
Annually, the St. Louis Chapter of the American Red Cross recognizes local heroes with the Heroes Breakfast, previously called the Lifesaver Awards. The 2015 Heroes Breakfast will take place on March 26, 2015 at the Chase Park Plaza. The event will honor award winners in 10 lifesaving categories. Ekon Benefits proudly sponsors the Firefighter category again this year.
To nominate a hero, visit the American Red Cross website.
Do you receive our "Your Trusted Source" monthly newsletter? Stop missing out!
Sign up now to receive industry news and hot topics, compliance tips, and much more!
The November 2014 edition of "Your Trusted Source" featured the following topics:
The 2015 Cost of Living Adjustments have been announced! Check out the 2015 limits pertinent to your Plan and access our historical chart of COLAs over the past five years.

Volatility in the market can leave participants uneasy about their current investment strategy. As a Plan Sponsor, what can you tell participants to calm their fears during periods of market decline?

Locating missing Participants is an ERISA Fiduciary Responsibility which becomes more urgent when a Plan is terminated.

An already daunting task was made even more difficult with the cessation of the letter forwarding services previously offered by the IRS and Social Security Administration. What steps should be taken in the search for lost Participants?
Check out the November "Your Trusted Source" for these topics and more.
Trying to find a previous "Your Trusted Source" newsletter? You'll find it in our archive.
On October 23rd, the Internal Revenue Service, IRS, released the 2015 Cost of Living Adjustments, COLAs, which place dollar restrictions on 401(k) plans, pension plans, and other retirement savings vehicles. The prior day, the Social Security Administration, SSA, released a press release containing the 2015 COLAs for Social Security Benefits and Federal Insurance Contributions Act (FICA) tax used to fund Social Security and Medicare. The annual COLAs are based on the cost-of-living index. Many limitations will increase for 2015 because the increase in the cost-of-living index met the statutory thresholds, triggering an adjustment. The 2015 Cost of Living Adjustments are effective January 1, 2015.
Read "2015 Cost of Living Adjustments Announced" on our website to learn the 2015 COLAs pertinent to your plan and access a historical chart of Cost of Living Adjustments over the past five years.
Committed to Quality…
Committed to You…




Ekon Benefits - Your Trusted Partner
Quick Links: Participant MyEkon Sponsor MyEkon Retirement FAQ Secure Send
---
Founded in St. Louis, Missouri in 1981, Ekon Benefits has been specializing in the administration and consulting of employer sponsored retirement plans for over 30 years.
We pride ourselves on providing timely, accurate retirement services that are comprehensive and customized to your needs. Our associates are knowledgeable and bring an average of more than 14 years of experience, with extensive experience in all types of qualified plans including Defined Benefit actuarial services, 401(k) recordkeeping and compliance, ESOP accounting, and 403(b) and 457 Plan administration.
The name Ekon Benefits unifies our service lines under a common name and message. Ekon, meaning trust in Polish, speaks to our founder's ancestry, as well as our goal of being your trusted partner for retirement plan design, administration and consulting.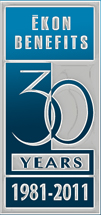 Ekon Benefits
4940 Washington Boulevard
St. Louis, Missouri 63108
314-367-6555 main
866-871-6356 toll free
314-367-7982 fax
info@ekonbenefits.com
Ekon Benefits, your Trusted Partner for Retirement Plan Administration and Consulting